Location of the Campus
Niigata is 2 hours from Tokyo metropolitan area by JR Joetsu Shinkansen (bullet train). You can go to Tokyo, Osaka, Nagoya, Sendai, and Nagano using express highways and this fact makes Niigata convenience city as a traffic starting point. As a result, many students come broadly from Kanto, Tohoku, Chubu, and Kansai regions as well as Niigata and its nearby prefectures and are learning while enjoying Niigata's rich nature.
How to Get to Niigata City
■By Joetsu Shinkansen (bullet train)
About 2 hours from Tokyo; about an hour and fifteen minutes from Takasaki.

■By express bus
Direct buses run from Sendai, Yamagata,Kooriyama, Aizuwakamatu, Tokyo (Ikebukuro),Takasaki/Maebasi, Nagano, Toyama,Kanazawa, Kyoto/Osaka, and Nagoya.

■By airplane
Fright from Sapporo, Nagoya,Osaka, Fukuoka,and Okinawa in service.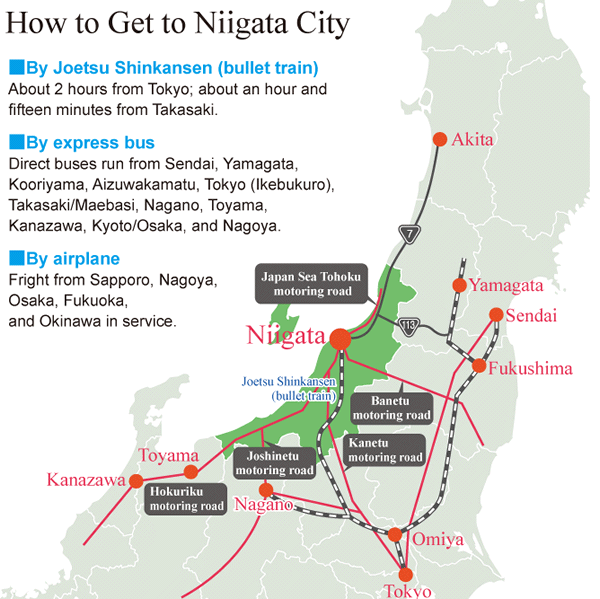 < /body> < /html>